Millions of sellers at 160K+ companies hit their number with Apollo
End-to-end automation, right out of the box
Automate time-consuming workflows throughout the sales funnel with Plays — simple, effective automations for everything that's too important to leave to chance.
"Plays allow our team of 5 to operate like a team of 10. On top of being able to automate high-level processes and workloads, we can automate the way our team finds leads and segment them into outreach journeys— so that they can purely focus on crafting the best message to our prospects."
Tim Patag
Sales Development Leader
21+ template library
Choose from a library of Plays to deploy game-changing automations in seconds.
Find perfect leads, automatically
Identify and sequence new leads based on any of Apollo's 65+ filters, such as buyer intent, headcount growth, or custom fields from your CRM.
Engage at the right time
Create automations to engage leads and customers at the perfect moment and never miss an opportunity again.
Scales with your team
Automate critical but time-consuming steps like updating opportunity stages to help your growing team focus on selling.
Empower your team with data-driven insights
Get a clear picture of your entire sales funnel with pre-built reports and dashboards right in Apollo.
"Apollo is the best outbound tool on the market. Apollo's insights and analytics enable us to continually optimize our campaigns, resulting in a measurable impact on our bottom line."
Juan Ignacio Otano
Business Development Team Lead
A single source of truth
Get a holistic view of your team performance with prospecting and engagement data in one place.
Optimize with granular insights
Zoom in to analyze messaging effectiveness, rep activity, team performance, ROI, and more.
Powerful but flexible
Use Apollo's pre-built suite of reports and dashboards, or create custom reporting to get the exact answers you're looking for.
Visualize your data
Combine multiple reports into one dashboard for an at-a-glance view of your most important metrics.
Apollo works where you do — everywhere
Access all the power of the Apollo platform wherever you need it with the Apollo Chrome Extension.
"Apollo helps save me time by automating the manual work. Great option for a quick and easy automated prospecting process."
Brooks Nelson
Director of Business Consulting
LinkedIn
Access direct mobile numbers and email addresses while prospecting on LinkedIn.
Gmail
Add email templates, configure tracking, and manage reminders directly from your Gmail inbox.
Google Calendar
Access rich data on who you're meeting with next directly from your calendar view.
Salesforce
Assign contacts to sequences and view full Apollo profile information straight from SFDC.
See why over 1,000,000 people joined Apollo last year
Meet some of the 16,000 sales teams that move business forward with Apollo.
"We were paying Outreach $18,000. ZoomInfo must have been another $15,000. When we did the migration Apollo was $12,000. We paid less for one tool than two tools together. We basically went from paying $35,000 for two tools to $12,000 for one. We cut our costs in half."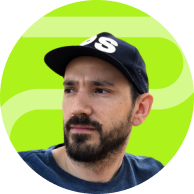 Sylvain Giuliani
Head of Growth & Operations
Apollo provided Census with
50%
increased data quality
The fastest growing and most loved sales technology on the planet
Apollo is now the #1-ranked Sales Intelligence & Sales Engagement solution on G2.
4.8/5 based on 5,133 reviews