Millions of sellers at 160K+ companies hit their number with Apollo
Access accurate and rich buyer data
With the largest and most accurate B2B database of 265+ million contacts, Apollo helps you build lists and filter with precision using over 65 data attributes, so you can find your perfect leads.
"Apollo is two platforms in one with the capabilities of Salesloft and Outreach, plus ZoomInfo. It saves us clicks, saves us time, and allows us to create automated sequences—something we struggled to achieve with our existing tech stack."

65+ filters
Find leads with precision and get all the data points you need.
Personas
Setup your ICP with personas and save time when prospecting.
Buying intent data
Find prospects researching products and services similar to yours.
Save search & alerts
Get email alerts when new leads match your saved search.
Enrich up-to-date data to your CRM
Keep your CRM data up-to-date and accurate with automatic enrichment from Apollo.
"We benchmarked Apollo versus ZoomInfo, Clearbit, Lusha, and Seamless, and ultimately Apollo won on all fronts, especially in enrichment. Higher quality than ZoomInfo, greater breadth than Clearbit."

Sylvain Giuliani
Head of Growth & Operations
Data Health Center
Uncover your total addressable market and schedule auto-enrichment.
CRM Enrichment
Maintain a CRM your team can trust with fresh and accurate data.
CSV Enrichment
Upload a CSV file and enrich it with data points from Apollo.
API Enrichment
Run programmatic data enrichment to any of your own systems.
Prioritize high-value leads & companies intelligently
Score and prioritize your most valuable leads with the Scoring Engine. You can automatically rank contacts and accounts based on the demographics and behaviors that are most important to you.
"Building out an Apollo scoring model was very simple. We see double digit higher win rates and higher ACVs with accounts Apollo corresponds with high scores."
Mark Turner
VP of Revenue Ops
Score criteria
Use Apollo's demographic and behavioral data for your scoring rules.
Score rules
Leverage score rules to rank the most important criteria for each ICP.
Score models
Create scoring models based on any combination of score rules.
Search, update, and enrich systems with Apollo API
Supercharge your systems with Apollo's API. Use it to search and enrich lead data leveraging our complete and rich B2B database, or use it to auto-sync tasks, sequences, opportunities, and more.
"Apollo enriches everything we have: contacts, leads, accounts... And we don't really have to touch it, it just works."
Mark Turner
VP of Revenue Ops
Data enrichment
Keep your data accurate and up-to-date in any of your systems.
Custom outreach
Modify sequences with API calls instead of manually clicking in the platform.
Workflow management
Make updates to task priority, due date, custom fields, and more.
See why over 1,000,000 people joined Apollo last year
Meet some of the 16,000 sales teams that move business forward with Apollo.
"We were paying Outreach $18,000. ZoomInfo must have been another $15,000. When we did the migration Apollo was $12,000. We paid less for one tool than two tools together. We basically went from paying $35,000 for two tools to $12,000 for one. We cut our costs in half."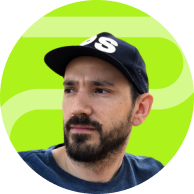 Sylvain Giuliani
Head of Growth & Operations
Apollo provided Census with
50%
increased data quality
The fastest growing and most loved sales technology on the planet
Apollo is now the #1-ranked Sales Intelligence & Sales Engagement solution on G2.
4.8/5 based on 5,133 reviews