Millions of sellers at 160K+ companies hit their number with Apollo
Be where your prospects are
All your must-have outbound channels in one place. Build sequences, hyper-personalize emails, make quality cold calls, and connect on LinkedIn to fill your pipeline with qualified opportunities.
"Apollo has increased the likelihood that we are gonna get someone on the phone or we are gonna get someone to reply to an email."
Nicole Coetzer
Head of Sales Development
Sequences
Create automated, multi-step touchpoints for your sales outreach, including emails, calls, LinkedIn tasks, and more.
Dialer
Make, receive, and record calls, join active calls, and log calls to your CRM, straight from Apollo.
Task Manager
Stay on top of all of your tasks, including calls, emails, LinkedIn connections, and other important action items.
Book high value meetings in seconds
Apollo's automated scheduling cuts out the back and forth and makes it easy for your buyers to book demos or follow up meetings — freeing you up to spend more time selling.
"We're getting higher reply rates, open rates are doubled, meetings are up, speed to booking a meeting is cut in half…This is the sales platform for people who want to do more with their outreach."

Collin Stewart
CEO
Inbound meeting scheduling
Distribute inbound leads and scheduled meetings evenly amongst your team.
Outbound meeting scheduling
Easily share your calendar and book meetings with prospects.
Send the right message at the right time, powered by AI
Apollo's Messaging AI leverages our extensive contact database to generate hyper-personalized emails for every prospect in your pipeline. Boost engagement, increase conversions, and create relationships in less time than ever before.
"With more complex workflows, our team could do more things in Apollo. We reduced the complexity of three tools into one."

Collin Stewart
CEO
AI writing assistant
Craft hyper-personalized emails based on relevant buyer signals for every prospect.
Go-to-market AI
Create automated go-to-market playbooks that address your prospect's unique needs.
AI email analysis & follow up
Get AI-generated follow-up emails that match the sentiment of each response.
See why over 1,000,000 people joined Apollo last year
Meet some of the 16,000 sales teams that move business forward with Apollo.
"We were paying Outreach $18,000. ZoomInfo must have been another $15,000. When we did the migration Apollo was $12,000. We paid less for one tool than two tools together. We basically went from paying $35,000 for two tools to $12,000 for one. We cut our costs in half."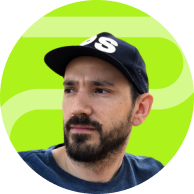 Sylvain Giuliani
Head of Growth & Operations
Apollo provided Census with
50%
increased data quality
The fastest growing and most loved sales technology on the planet
Apollo is now the #1-ranked Sales Intelligence & Sales Engagement solution on G2.
4.8/5 based on 5,133 reviews